About the Books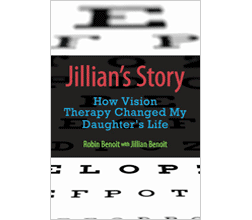 Available on e-book
Jillian's Story: How Vision Therapy Changed My Daughter's Life
An inspiring tale of determination, Jillian's Story:  How Vision Therapy Changed My Daughter's Life offers a deeply personal account along with life-changing information on the importance of vision therapy.
At the age of five, Jillian Benoit was diagnosed with Amblyopia, a condition in which a child is born with good vision in one eye and extremely weak vision in the other-she had been legally blind in one eye since birth, and no one knew it.
After Receiving the diagnosis, the Benoit family embarked on a six-year odyssey to improve Jillian's vision-eye patches, thick glasses, visits to doctors' offices, and constant struggles with academics-before finally discovering the wonders of vision therapy.
Dear Jillian:  Vision Therapy Changed My Life Too
After Jillian's Story: How Vision Therapy Changed My Daughter's Life was published, someone asked me "Where is your research data proving that vision therapy works?" My reply was that I am part of the data. I said that vision therapy is for people and only people can tell you if it works. 
I am not a one-in-a-million case. Countless people of all ages have been through vision therapy and it has changed their lives for the better. I hope this book will open the eyes of those who have rejected vision therapy. Thank you to everyone who wrote to me and shared their vision therapy success. You are the reason our book is titled Dear Jillian. 
I went on a two-year tour of America's optometry colleges thanks to the Optometric Extension Program Foundation and HOYA. I spoke to thousands of students and faculty, in person or via Skype presentations, and told them, "You may not offer vision therapy in your practice when you graduate, but please know what it is and what it can do. You hold the key to changing someone's life in your hand."  I hope you will be inspired by the twenty-two wonderful people whose stories are shared in this book.
—Jillian Benoit, age 14